Ceiling lamp - Yellow/amber vertical stripes (D40)
Regular price

$804.00
Sale price
Excl. Danish VAT
Pickup currently unavailable
Worldwide shipping

We are happy to offer domestic and worldwide shipping.
All our items are shipped from Millefiori Interior in Copenhagen, Denmark within 3-5 business days, unless otherwise agreed or stated on your order.
Shipping rates vary by destination and packaging size/weight and will be calculated at checkout. 
If you are experiencing any problems with check-out, or are unable to complete an order, please contact us at
contact@millefioriinterior.com
.
Read more about our terms and conditions here

Customs/duties (Non-EU orders)

Please note that orders shipped from Denmark to destinations outside the EU may be subject to import duties charged by the recipient country.


We do not take any responsibility for rewiring of fixtures or local adaptations. 
Read more about our shipping policy 
here
Size guide
D20: The smallest size of our candy ceiling lamps (diameter 20 cm) is ideal to place in smaller spaces, e.g. a narrow entrance/hallway, or in corners of a space. It could also be placed above a kitchen counter, as a pair or individually.

D30: The middle size of our candy ceiling lamps (diameter 30 cm) can be placed in a medium-sized room/space, typically ideal for e.g. a bedroom or an office. It can also be used above a small/medium dining table, or as a pair above a long table.

D40: The largest size of our candy ceiling lamps (diameter 40 cm) is ideal to place in a medium/large space, such as a dining or living room. It can be centered in any type of spacious room, where it will hang beautifully as the main source of light.

You are always welcome to reach out to us at 
contact@millefioriinterior.com if you are in doubt regarding size or have any other questions. 

Request more information
If you have any questions, or would like to receive additional information or photos of any specific product, please email us at
contact@millefioriinterior.com
for assistance.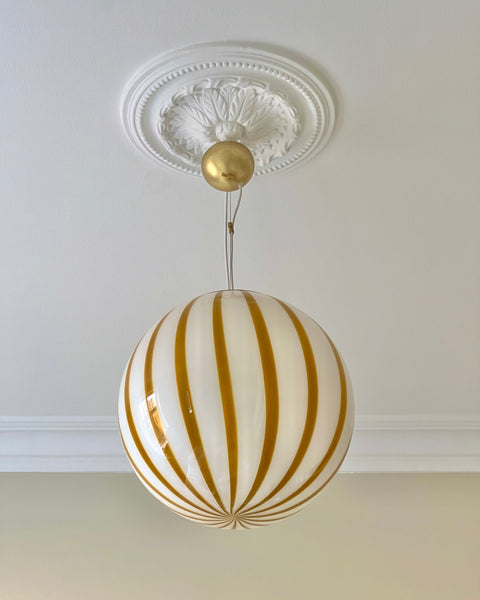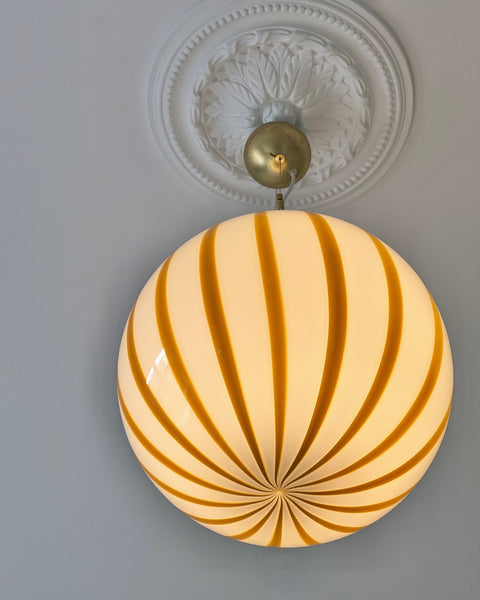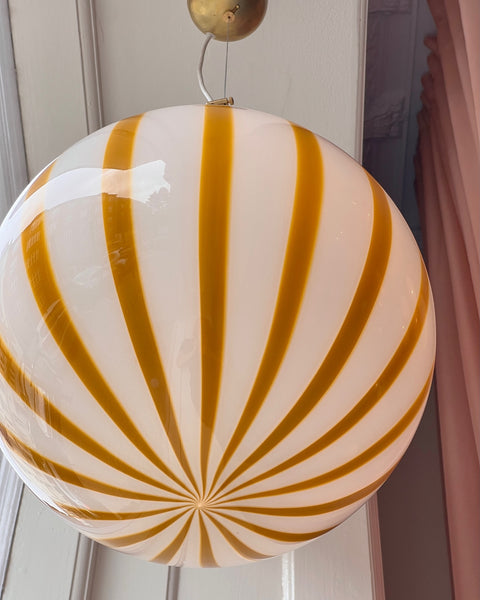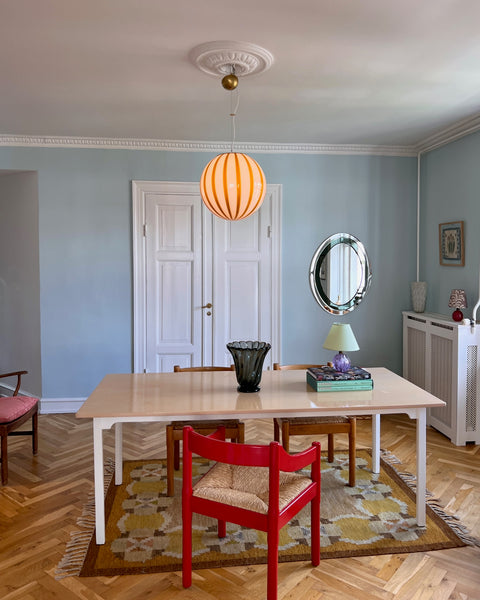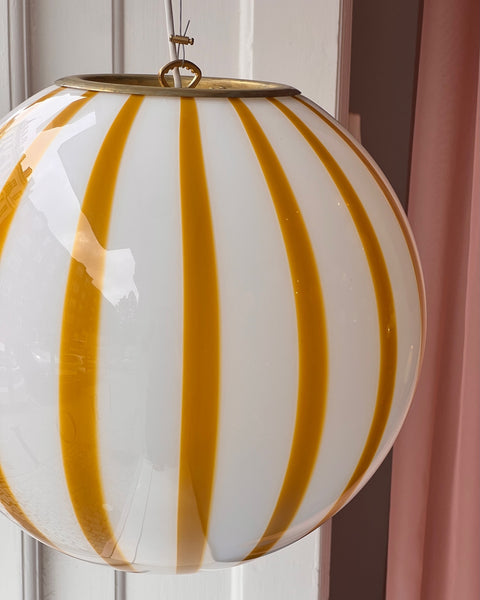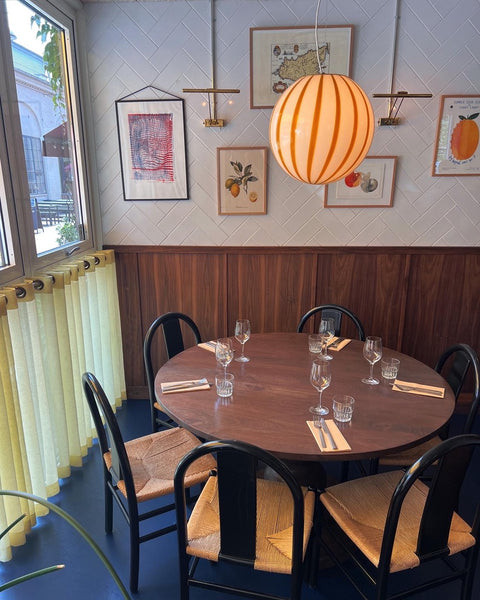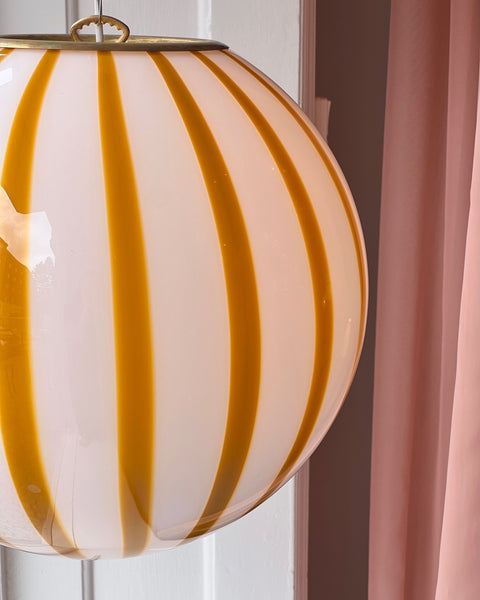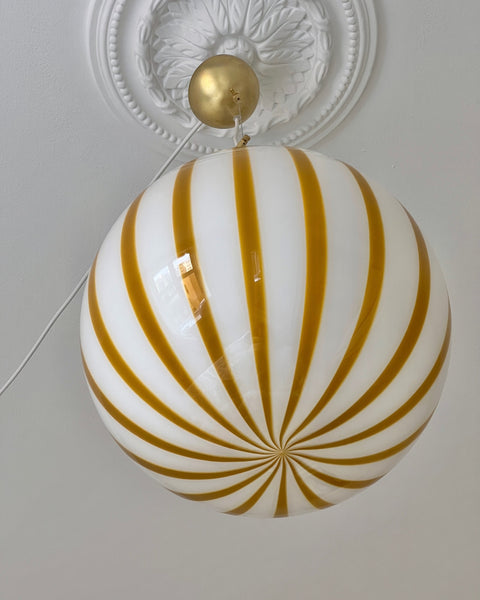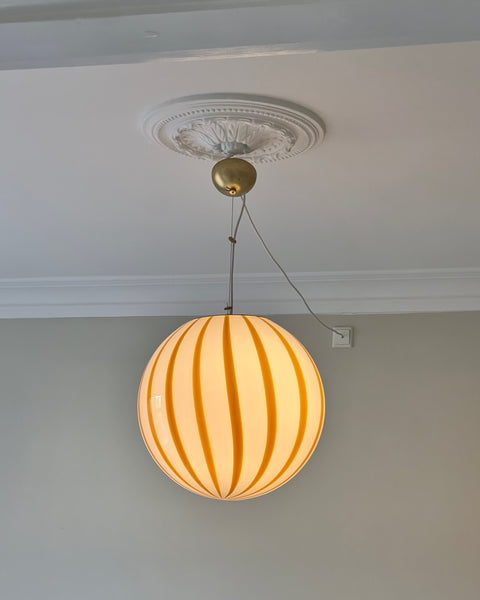 Candy ceiling lamp
Yellow/amber/white mouth-blown glass, D 40 cm
Brass canopy, Comes with adjustable mounting/wire

New condition, Made in Italy

The ceiling lamp is new, made in Italy by a Murano master in original forms and in mouth-blown glass.

*Please be aware that all lamps are handmade and unique and can therefore differ slightly from the one in the photo.
The mouth-blown glass can have small imperfections and unique characteristics, e.g. air bubbles or variations in patterns and shapes etc.